Add the form embed code
In your HubSpot account, navigate to Marketing > Lead Capture > Forms.
Create a new form or hover over an existing form, click the Actions dropdown menu, and select Edit form.
Click the Options tab to choose what will happen after a visitor submits your form. You can choose to redirect your visitors to a thank you page or display an inline thank you message when a visitor submits your form.
In the form editor, in the upper right, click Share.
In the dialog box, if you want to add contacts who submit the form to a Salesforce campaign, click the Add contacts to a Salesforce campaign dropdown menu and select a campaign.
Click Copy.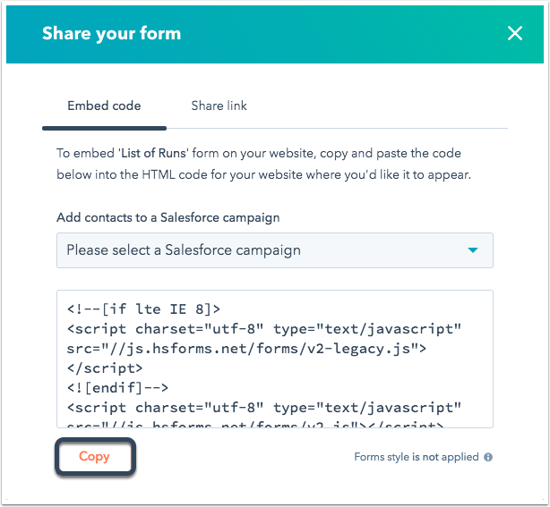 In the top right, click Publish.
Paste the embed code into the HTML module on your external page. To track your form, your HubSpot tracking code must be installed on the external page where you place a HubSpot form.
Add HubSpot forms to WordPress pages and posts in classic editor
In the left sidebar menu in your WordPress account, navigate to HubSpot > Forms.
Hover over the form you want to add to your website and click Copy shortcode. You can also create a new HubSpot form by clicking Create form.

Navigate to a WordPress page or post, then paste the shortcode into the page editor.

Publish the page to take your HubSpot form live on your WordPress page.
To view submissions to the form in HubSpot, navigate back to the forms dashboard in WordPress. Hover over a form and click the Actions dropdown menu, then select View submissions.